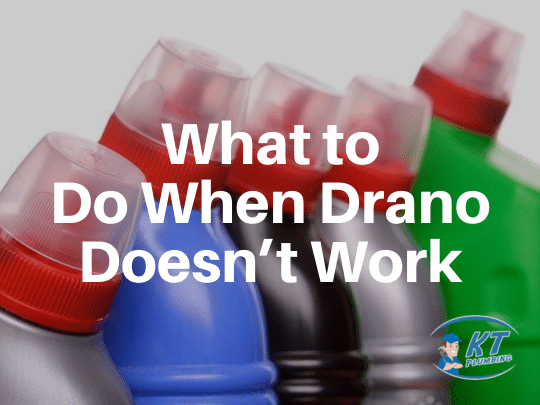 It's a normal reaction to reach for the Drano as your first line of defense when you have a clogged drain in your Greer home.
But what happens if it doesn't work? And what happens if you compromise the integrity of your drains with harsh chemicals?
If Drano doesn't work or you've become too reliant on it, here are other alternatives to try.
Try a plunger
Get a durable plumbing snake
Look for a home remedy, like baking soda mixed with vinegar
Read more about how to make these alternatives work and what to do when Drano doesn't work and leaves you with a stubborn clog. Or call the Greer, SC, plumbers to deal with your clogs and plumbing problems today!
1) Use a Plunger
Plumbers aren't just for toilets. You can also use them in your sink by forming a firm, tight seal directly over the drain. Depending on the height of your sink, you may need to stand on a stool to get a good angle and start plunging. It could take up to 10 minutes to get rid of a clog. Check to see if you're making progress after a few minutes, but don't give up until you've done some serious plunging for about ten minutes. Even a small improvement is a sign you're on the right track and will probably loosen up with more work.
2) Snake It
You can rent a plumbing snake at your local hardware store and use similar equipment as professional plumbers use. Take care to follow the directions and send them into your pipes until they find your clog. Use the tips on the end of the snake to break down the clog into smaller pieces, or pull it out of your drain and throw it into your garbage. Pro tip: Make sure you're using the correct snake for your drain, as they come in different sizes. You can ask the hardware store if you're not sure. Never let the snake get more than three to four feet into your drain unless a plumber specifically instructs you to do so. If used incorrectly, the plumbing snake could get stuck in your drain and create more problems.
3) Try a DIY Home Remedy
You can clear out clogs with simple ingredients found in your pantry. Get rid of standing water with the help of one cup of baking soda and one cup of vinegar. It should fizz and bubble up. Let it sit for about thirty minutes. Afterwards, run hot water down the drain and monitor if the clog breaks up and disappears.
4) Call an Experienced Greer, SC Plumber
If nothing else is working and you've tried a combination of the above methods, call an experienced plumber in Greer today. You could have a hidden problem that's an indication of something bigger going on. Reach out to the team at KT Plumbing to help us get rid of your clogged drain in Greer. We can also offer solutions, like professional drain cleaning in Greer, that can help keep clogs from coming back.
Call KT Draining for Professional Drain Cleaning in Greer, SC
Are you struggling with stubborn drains, clogs, and plumbing problems? Whether you have a stubborn clog or a small, persistent clog that could be the symptom of a bigger problem, call us today for plumbing service in Greer. Call KT Plumbing at today or book your appointment online.
Learn More About Greer Plumbing Maintenance
Check out more of our blog posts below for some helpful info, expert tips & more!