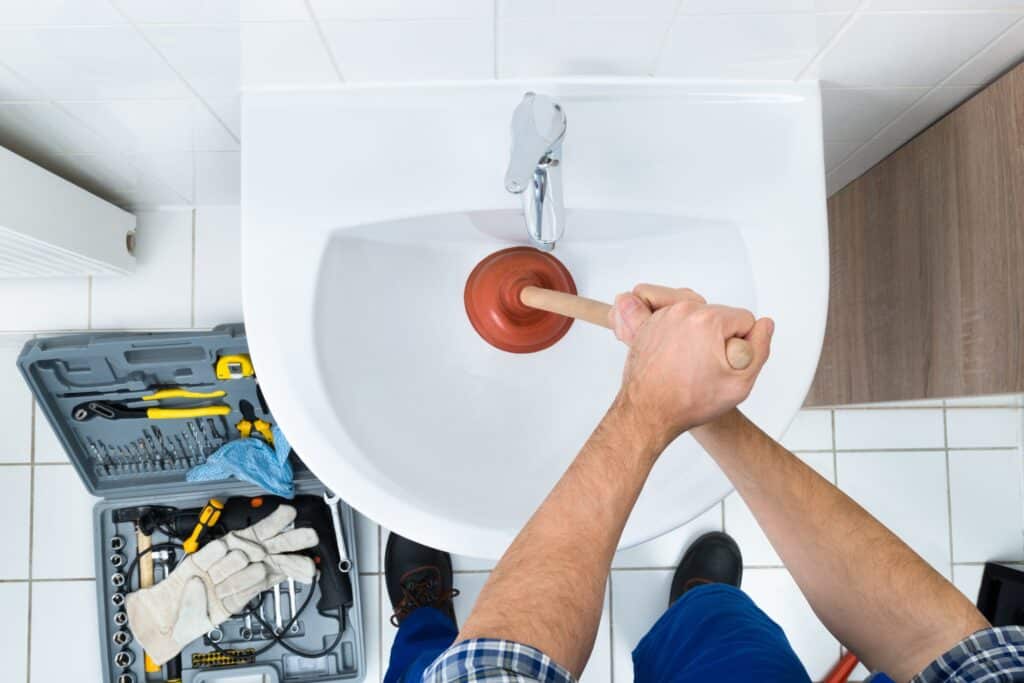 It's always unsettling to discover sluggish, clogged drains that derail your day. There's no need to deal with standing water in your shower or struggle with washing the dishes.
You can get on top of a drain problem by watching out for these common causes of clogged drains, with tips for how to resolve them. Read on to learn more or call the expert Greer plumbers at KT Plumbing for help with your clogged drain or any other plumbing problem you may have!
1) Grease
If your kitchen sink is slowly draining and there's a foul odor, you may have a grease clog. Your grease trap could be the problem, especially if you're seeing greasy residue in a large portion of your water. You may be able to resolve a new grease clog by slowly pouring a pot of boiling water down the drain. A one-to-one mixture of distilled vinegar and boiling water could also help.
2) Hair
Drains clogged by hair are common in bathtubs, showers, and bathroom sinks. An unpleasant rotten odor or musty smell is one sign of a hair clog. Gurgling noises, fruit flies, and sluggish water flow are also signs of a hair clog.
If your hair clog isn't too big yet, hot water with some baking soda and vinegar could help. If you can see a clump of hair, put on some gloves and gently use some needle-nose pliers to remove the blockage. If nothing else works, a flat plunger may also push their hair through and resolve it.
3) Soap Scum
Soap scum is a common reason drains get clogged. Slow drainage, puddles of water, bad smells, and soap residue are all signs to watch out for. Soap scum often breaks down quickly with boiling hot water or a combination of a one-to-one solution of baking soda and vinegar. But it's not uncommon to experience a soap scum clog along with hair and other debris, which may require a certified plumber to resolve the problem.
4) Food Waste
Food waste can build-up in your pipes, even if you have a garbage disposal. It's best to scrape off as much food waste as possible from your plates. But once you have a clog, you can try a one-to-one solution of baking soda and vinegar to help break down the clog and deodorize the smell. A kitchen plunger or a pot of boiling water followed by cold water and running the disposal also helps.
5) Dirt and Grime
If you get dirt in your utility sink or someone washes up with too much mud on their hands, you'll quickly experience a clog. Two cups of boiling water can help, followed by a half cup of baking soda down the drain. Add more boiling water and let everything fizz and get to work before rinsing clean. Next time, use an outdoor hose or bucket of water to remove the bulk of the dirt first.
6) Diapers or Wipes
Diapers and wipes quickly create serious clogs and build up in the drain along with other materials. Even if the wipes say they're flushable, don't do it! They don't break down quickly enough (or at all) and can cause sewage to back up and flow into your home.
Although it's not pleasant, try to pull out a visible wipe or diaper from your toilet. The next step is to try dish soap to help lubricate the clog, followed by hot water. A toilet plunger or auger could also help. Before you turn to chemicals that could harm your plumbing, call one of our certified plumbers in Greer, SC, to help.
7) Tree Roots
Tree roots in your sewer or water lines can quickly lead to clogs. If you're also experiencing sudden drops of water, banging sounds from your pipes, and skyrocketing water bills, you may have a problem with roots infiltrating your plumbing. Call one of our experienced plumbers in Greer, SC, to assess the problem with a sewer inspection and come up with a solution that works for your home.
Get Help from the Greer Drain Cleaning Pros
Are you struggling with clogged drains or need to schedule professional drain cleaning in Greer, SC or the surrounding area? Whether you have a stubborn clog or a small, persistent clog that could be the symptom of a bigger problem, call KT Plumbing to schedule plumbing service in Greer, SC or beyond!