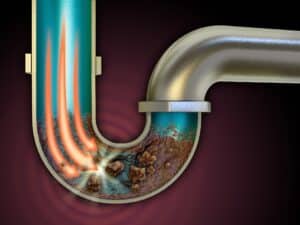 As Greer, SC, plumbers, we frequently see clogged drains, especially after a holiday weekend or the holiday season. Whether it's because you've hosted people in your home or you're cooking more, it's common to experience clogged drains in your bathroom and kitchen. But clogged drains are more than inconvenient, they can start to grow bacteria and compromise the integrity of your plumbing and health.
Sometimes a plunger or a little Drano will help clean your drains, but you may need the help of a professional plumber to clear out the issue. But it's just as important to keep clogs from forming in the first place as it is to clear them out. Below, you'll find some of our best tips to keep your clogs clear and healthy.
Have questions or need drain cleaning help? Reach out to our expert plumbers now!
1) Get Your Drains Professionally Cleaned
It's tough to stay on top of drains unless they're clean to begin with. A thorough, professional drain cleaning in Greer, SC can help get your plumbing clean and in good working order. Once they're completely clean, it's easier to stay on top of keeping them that way with some of our pro plumbing tips.
2) Keep Grease Out of Your Drains
Grease is an inevitable part of cooking, and it's easy to let some slip down the drain when you're in a hurry. It's also tempting to let it run down your sink and think a little grease just this once won't hurt your plumbing. However, grease quickly congeals and sticks to almost everything you put down your drain, which creates a massive clog. Keep an old jar or container under your sink and keep it readily available to put your grease into and toss.
3) Put Your Food in the Trash
Even if you have a garbage disposal, it's important to put food waste in your trash. The garbage disposal can catch minimal food waste that didn't scrape off your plate. But it should never be used for large pieces of food or eggshells, coffee grounds, corn husks, potato peels, or animal bones.
4) Avoid Putting Solids Down Your Drains
Beyond food, you also avoid putting solids of any kind down your drains. Only human waste and a reasonable amount of toilet paper should go down into your plumbing. Feminine products, cotton balls, dental floss, tissues, Q-tips, cat litter, and anything else that may seem okay to flush should go in the trash.
5) Keep Any Overflow Spaces Clean
Take some time to get to know the sinks in your home. You probably have a pop-up drain assembly that you can pull up, remove food waste from, and clean out. You can also fill your sinks to just below the overflow hole with some soap and water. Add a cup of bleach to the water, turn on your hot water for about ten minutes, and then drain the entire sink.
6) Rinse Out Your Garbage Disposal
Your garbage disposal needs attention to keep your drains clean and fresh. Every few days, pour a half cup of dishwashing fluid down your drain and run lukewarm water for a minute or so after. Try this technique every day during the holiday season or when you're hosting a company if you're prone to having drain problems.
7) Deep Clean Your Tub and Shower Drain
Remember to give your tub and shower drains attention. If you're experiencing standing water in your shower or bathtub, you need a drain intervention. Remove any hair and flush with hot water and a little soap on a weekly basis. A clean plunger or plumbing snake could also help with a superficial clog that just needs a little help.
Call KT Draining for Professional Drain cleaning in Greer, SC.
Are you struggling with stubborn drains, clogs, and plumbing problems? Whether you have a stubborn clog or a small, persistent clog that could be the symptom of a bigger problem, call us today for help. Call KT Plumbing today or book your appointment online!