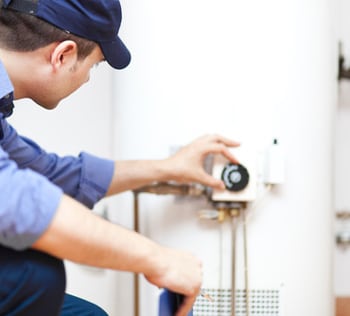 Do you have issues with your water heater in Greer, SC? At KT Plumbing, we can get your hot water back on and flowing as soon as possible.
Read on to learn about some issues you need to be aware of so you can get your water heater issues resolved quickly.
As always, you can call us with any questions you may have, or if you're ready to schedule water heater service with us!
1) No Hot Water
This is one of the most common water heater issues. Depending on the sort of water heater you have, the problem may be a few things. Nonetheless, it is likely that you'll need to call in a professional for water heater repair in Greer.
2) Not Enough Hot Water
This can be caused by a number of issues, including:
Your tank is too small
Your temperature is turned down too low
If you're having tankless water heater problems, your heater may not be powerful enough
You can try turning the temperature up on your own. If that doesn't help though, you'll likely need to call the professionals for help.
3) The Water isn't The Right Temperature
If your water is either too hot or too cold then the problem could have an easy fix. To get that just right temp try changing the temperature on the heater. if that doesn't fix it then the problem could be caused by a faulty temperature-pressure valve though, which requires the services of a pro to fix.
4) The Water Takes Too Long to Reheat
This water heater problem can be caused by a variety of issues. You can check to see if there is sediment buildup in your tank and try to flush it. If that doesn't work, bring in an expert to do further testing and perhaps perform some routine water heater maintenance in Greer.
5) The Water Tank Leaks
If your tank leaks are caused by pipes that you can access, tighten them to see if the problem goes away. If your hot water heater troubles are caused by the tank, have it replaced as soon as possible. If you let the issue go on, it might cause severe water damage!
6) The Water Heater Makes Unusual Sounds
If your water heater problems include unusual sounds coming from the heater itself, try draining it and descaling it. If that doesn't help, call and ask for professional help.
7) Water is Rusty
Rusty water signifies corrosion inside your tank. But, you may be able to solve the problem yourself by draining the tank and replacing the anode rod. Give this a shot before you call us about your hot water heater troubles!
8) Water is Smelly
Smelly water could imply a bacterial infection in your tank. Drain the tank, fill it with water and hydrogen peroxide, let it sit for three hours, then drain it again and let it refill. If the water still smells, you may need a stronger treatment or a new tank. Either way, bring in professional help.
Our Greer Water Heater Experts Are Here to Help!
Stop wondering who to call for water heater repair and contact our expert plumbers at KT Plumbing whenever you have hot water problems. We'll get to you fast and everything fixed ASAP so you can use your hot water normally again soon!