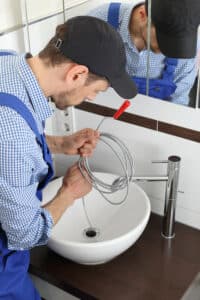 Are you frustrated with smelly, messy drains? Professional drain cleaning in Greer, SC, could help. It's also important to fix the issue causing the smell, but once that's resolved, drain cleaning can help keep everything in good shape.
Not sure if you need drain cleaning?
Continue reading to learn about some signs to look for to get a handle on your drains, or simply reach out to our expert Greer plumbers today!
1) You Have Smelly Sewage Odors in Your Home
Smelly sewage odors in your home are always alarming and unnecessary. You may have a sewage line problem and need a repair, but it could also be due to clogged drains. Once the problem is resolved, professional drain cleaning can get rid of the odor and any harmful bacteria or other contaminants.
2) Your Sinks are Draining Slowly
Sluggish, slow drains attract bad odors and bacteria that can impair your health and quality of life in your home. Once the issue is resolved, you need professional drain cleaning. It can get your drains smelling fresh and deodorized again and help prevent future problems.
3) Your Sewer Frequently Backs Up
If your sewer is backing up, you have more than a smelly drain problem. Call one of our experienced plumbers in Greer, SC, for help. We'll come out for a sewer inspection and figure out the next steps to resolve the problem before you book a professional drain cleaning.
4) You're Going Through a Lot of Drain Cleaner
Have you noticed you're using a lot of drain cleaner or clog remover? There's something else going on with your drains. We can help get everything unclogged before your professional drain cleaning. It could end up saving you money in the long run and keep you from spending a bundle on store-bought drain cleaners.
5) Stains Collecting Around Your Drains
Do you notice stains or grease sitting around your drains? They're probably draining slowly and leaving behind a messy, smelly residue. Once the clog is fully removed, you should schedule a professional drain cleaning service to restore your sink, bathtub, or shower.
6) Gurgling Sounds
Gurgling sounds are a sign that you may have a clog, roots in your water or sewage line, or another hidden problem. Our experienced plumbers in Greer, SC, can help fix the issue and discuss professional drain cleaning solutions to get everything working seamlessly again.
7) Fruit Fly Problems
Many people overlook fruit flies as a symptom of clogged or problematic drains that need attention. The odor and residue can quickly attract these bugs and take over your home. Call us today to look into the problem and professionally clean your drains.
Call the Experts at KT Plumbing Today
Do you need professional drain cleaning for your home? Whether you have a clog, a slow drain, or just a messy problem, we can help! Call KT Plumbing for clogs and other plumbing problems in Greer, SC, and the surrounding area, or book your appointment online here!